FAMILY, ESTHETIC, & PROSTHODONTIC DENTISTRY
CREATING BEAUTIFUL SMILES
(707) 745-8002142 East D Street, Benicia, CA 94510
Newly Expanded Location! 172 East D Street, Benicia, CA 94510
Carquinez Dental Group is fully committed to every patient that comes into our office. Our office is conveniently located in Benicia and offer our patients high-tech equipment allowing for same-day dentistry (such as 1-visit crowns) which is something unique to our office and hard to find from other local dentists. Our entire team is dedicated in helping you keep your teeth and gums their healthiest and your entire smile looking its best! In our office, you become a part of our family and every time you come into our office, you'll know what it feels like to receive great personalized dentistry in a comfortable atmosphere and where everyone knows your name and dental history.
If you are in need of a new dentist, no matter what the reason, Carquinez Dental Group would love to see you come in for a dental visit. To request an appointment, call our office directly at (707) 745-8002 to get set up with an appointment time and date to come in to our office for a dental visit. A brand new way of experiencing dentistry is just a click or call away!
New patients receive a comprehensive examination which includes a screening for oral cancer, gum and bone disease, blood pressure, and systemic disorders. A routine oral exam is performed on established patients to determine any changes in dental and health status since the previous visit.

Your gum tissue is measured with a fine instrument ruler to calibrate in millimeters pocket depth between the tooth and the connective gum tissue around the tooth. Pocket depths more than 4 millimeters could indicate disease and infection. The deeper the pocket, the greater the extent plaque bacteria collects and infection in gum disease develops.

X-rays are taken as needed.

Tooth scaling and root planing occur as needed.

Routine cleanings also include a professional polishing (Prophy) that removes only the soft sticky plaque that is above the gum line.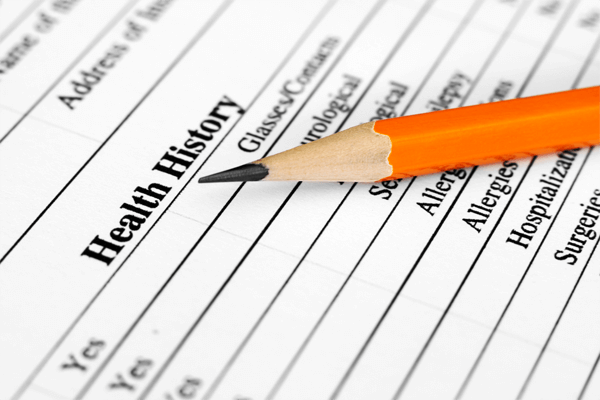 If you are a new patient to our office, the attached file contains our new patient bundle with forms that will need to be filled out when you arrive at our office.  Printing them, filling them out and bringing them with you will allow us to attend to your medical needs more quickly than completing them on your arrival.  Thank you and please call our office if you have any questions at all.
CDG Dental Materials Fact Sheet 
CDG Notice of Privacy Practices
The fees for the services we provide for you are based of several factors, such as materials, laboratory fees, and treatment time, but more important than any of these are clinical skill and judgement. Our office will make every effort to inform you of any amount not covered by your insurance carrier prior to starting treatment.

As our courtesy to you, our office manager will file your insurance and help you to maximize your benefits. Please remember that any remaining balance after your insurance has paid or not paid is your responsibility and payment is due the day services are rendered unless other arrangements have been made prior to your visit.

We accept cash, checks, and all major credit cards. For complex cases, we offer several financing options to allow you to receive the dental care that you deserve.
Schedule Your Appointment Today
By Phone
Carquinez Dental Group would love to meet you and your family and provide you with the dental care you need and give you all smiles you deserve!
Please contact our office by giving us a call at (707) 745-8002 today.
You will be put in touch with our wonderful front office team members, who can assist you with any questions you may have. We would love to get you scheduled for an appointment to come in and see us.
(707) 745-8002