FAMILY, ESTHETIC, & PROSTHODONTIC DENTISTRY
CREATING BEAUTIFUL SMILES
(707) 745-8002142 East D Street, Benicia, CA 94510
Newly Expanded Location! 172 East D Street, Benicia, CA 94510
Tooth-colored fillings, white fillings and composite resin fillings are all names for the high-strength, natural-looking fillings that can be placed today instead of silver or gold (also known as amalgam fillings). No matter what the name, Carquinez Dental Group will know just what you're talking about when referring to this natural-looking filling.
Call us at (707) 745-8002 to request an appointment so we can discuss the benefits of white fillings and how they can help improve your smile.
Strong and Natural Looking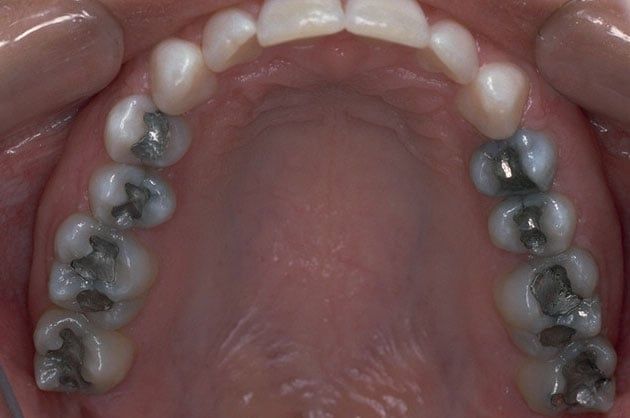 White fillings are made from a high-strength composite resin that can be easily color-matched to your natural tooth making it nearly invisible to you and anyone else. Unlike silver and gold fillings, composite tooth-colored fillings actually bond to the tooth which means they support the surrounding tooth structure, which helps to prevent breakage and insulate the tooth from excessive temperature changes. You are much less likely to have a composite filling fall out which is a common issue with metal fillings.
Carquinez Dental Group offers proven technology that allows you to replace old silver and gold fillings with a more natural looking, composite filling. Composite fillings are bonded to the tooth and research has proven them to be about 90% as strong and healthy as natural tooth material.

Other Benefits:
- Beautiful in appearance
- Completed in a single visit
- No filling leaks
- Less chance of tooth cracking
You can think of a dental inlay or onlay as being midway between a filling and a crown. Inlays or onlays are used when not enough tooth structure remains to support a filling, but the tooth is not so severely damaged that it needs a crown.
An inlay is similar to a filling, but it lies within the cusps (bumps) on the chewing surface of your tooth. An onlay is more extensive than an inlay and covers one or more cusps.
Inlays or onlays can be made of gold, composite resin (plastic) or ceramics. They can last for decades. However, how long they last depends on the material used, the teeth involved, the forces of chewing and how well the patient maintains them with good oral hygiene and regular visits to a dentist.
Schedule Your Appointment Today
By Phone
Carquinez Dental Group would love to meet you and your family and provide you with the dental care you need and give you all smiles you deserve!
Please contact our office by giving us a call at (707) 745-8002 today.
You will be put in touch with our wonderful front office team members, who can assist you with any questions you may have. We would love to get you scheduled for an appointment to come in and see us.
(707) 745-8002