Implant Technology
Information about the dental implants we use.
3i Implants
BIOMET 3i OSSEOTITE® and NanoTite Dental Implants are intended for immediate function on single tooth and/or multiple tooth applications when good primary stability is achieved, with appropriate occlusal loading, in order to restore chewing function.
Contraindications: Placement of dental implants may be precluded by patient conditions that are contraindications for surgery. BIOMET 3i Dental Implants should not be placed in patients where the remaining jaw bone is too diminished to provide adequate implant stability.
Astra Tech Implants
To put it simply, with the ASTRA TECH Implant System esthetics are integrated into the implant system design. We work together with nature in supporting the natural healing process instead of interfering with it.
Bicon Implants
The Bicon implant system is comprised of only two components, with a bacterial-sealed, 1.5" locking taper connection. The two components are the implant, which is the portion that goes into the jawbone, and the abutment, which fits into the implant and provides a solid base for a permanent crown or removable denture. Bicon's design provides for a greater surface area than most other implant designs, thus enabling the use of shorter implants which often negates the need for a bone grafting procedure.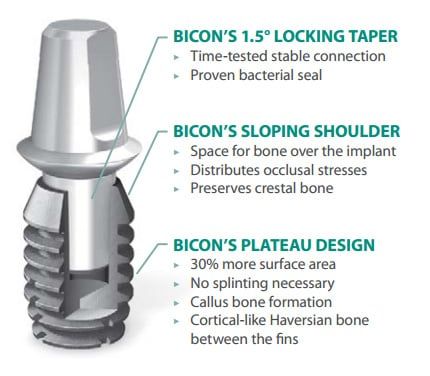 BioHorizons Dental Implants
BioHorizons offers ten comprehensive dental implant lines, covering virtually every surgical and prosthetic indication or clinician preference. Our dental implants carry a lifetime warranty and are clinically-proven by some of the most thorough and in-depth research in the industry.